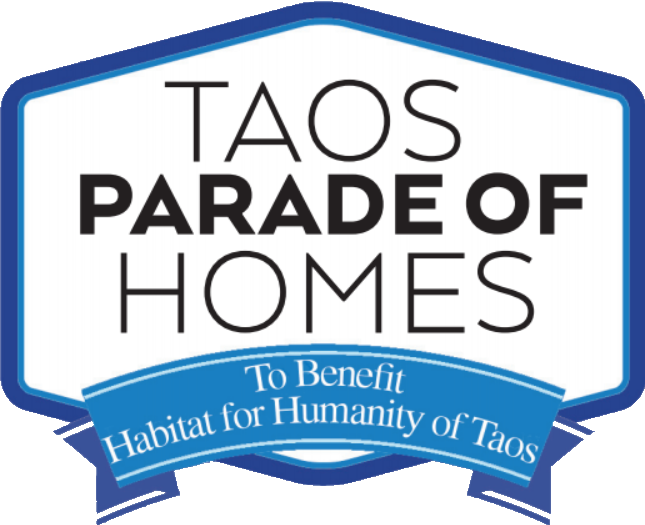 Welcome to the 2018 Taos Parade of Homes sponsored by The Taos News, Enchanted Homes Magazine, and the Taos County Association of Realtors® (TCAR), with all proceeds benefiting Habitat for Humanity of Taos.
The event is scheduled for Saturday, July 14, 2018 and runs from 10:00 am to 3:00 pm. Tickets are $20.00 and are available at the following locations:
The Taos News, 226 Albright St., Taos, NM 87571
Habitat for Humanity of Taos, 504 Salazar Rd, Taos, NM 87571
High Country Real Estate Services, 622 Paseo Del Pueblo Sur, Taos, NM 87571
Coldwell Banker Lota Realty, 204 Paseo Del Pueblo Norte, Taos, NM 87571
Berkshire Hathaway HomeServices Taos Real Estate, 314 Paseo Del Pueblo Norte A, Taos, NM 87571
Century 21 Success, 114 Dona Luz St, Taos, NM 87571
Tickets will also be available for purchase on the day of the event at the Taos Habitat for Humanity ReStore located at 16 State Hwy 522 (just north of the Hwy 64/522/150 traffic light), El Prado, NM 87529 as well as at any of the homes on the Parade of Homes event. For more information, contact Habitat for Humanity of Taos at (575) 758-7827.
There will be snacks available at each home as well for you to enjoy as venture from home to home.
Habitat for Humanity of Taos
Habitat for Humanity of Taos is a locally run affiliate of Habitat for Humanity International, an ecumenical, nonprofit Christian housing ministry building decent, affordable housing in partnership with people in need. Habitat for Humanity of Taos has an open-door policy: All who believe that everyone needs a decent, affordable place to live are welcome to help with the work, regardless of race, religion, age, gender, political views or any of the other distinctions that too often divide people. In short, Habitat welcomes volunteers and supporters from all backgrounds and also serves people in need of decent housing regardless of race or religion.
Why Taos….The town of Taos is in northern New Mexico, 110 miles northeast of Albuquerque. Taos is at an elevation of about 7,000 feet and has a population of 5,000. Surrounded by the Sangre de Cristo Mountains which includes Wheeler Peak, the highest peak in New Mexico at 13,100 feet this high desert area shows the Southwest in all its beauty. The air is thin, the humidity is low and the sun is bright.
Taos is also home to the Taos Pueblo, a multi-storied adobe building that has been used for more than 1,000 years. There are also world class museums and galleries, the historic Taos Plaza, the historic San Francisco de Asis Church in Ranchos de Taos and the Rio Grande Gorge Bridge, 8 miles northwest of Taos. The latter spans 650 feet above the river.
Tourism is the dominant sector of Taos economy. As a result, the majority of the population works in the service industry. More than 20% of the population lives below the poverty line and the median personal income is $26,000. In contrast, the average home price is $340,000 and, according to the State Housing Authority, 90% of the people who live and work in Taos cannot afford a home of their own.
Remember that 100% of the proceeds from the Taos Parade of Homes go directly to Habitat for Humanity of Taos. Feel free to make an additional donation with the Habitat for Humanity of Taos volunteer at any of the homes you visit. Plan on stopping by Home #7 on the event at 511 North Sunset St, which is the 32nd home built by Habitat for Humanity of Taos in the Taos County area. Check out the unique construction techniques used in Taos – i.e., adobe construction, which is used by only a couple of Habitat for Humanity organizations nation wide.
Map for the 2018 Taos Parade of Homes
Use the map below to find your way to all of the homes on the 2018 Taos Parade of Homes. Click on any numbered home marker or use the map information slider control on the left-hand side of the top header of the map to bring up information about the home, including a description and additional photos of the home. Use your computer or mobile device controls to zoom in or zoom out to find your way around between each home. Use the map controls to switch between the map view and the satellite view to more clearly identify the property and surrounding area. Use the map expansion tool on the right-hand side of the top header of the map to expand the map to full screen on your computer or mobile device.
Feel free to visit any or all homes on the Taos Parade of Homes event and to visit the homes in any order you wish. The event runs from 10:00 am to 3:00 pm on Saturday, July 14, 2018. so you should have time to see all homes if you wish. There will be snacks and refreshments at each home, so move from home to home to discover what culinary delights await. Fill out the back of your ticket and drop it off with the Habitat for Humanity volunteer at the last home you visit to be eligible for a drawing for prizes to be given away by Habitat for Humanity of Taos. The drawing will be within a few days after the event, and you will be notified by Habitat for Humanity of Taos if you win.
Ready to Go…
Here's a printable handout to take along with you as you travel to each home on the Parade of Homes event:
---
Home #1 – 475 Tune Dr, El Prado, NM 87529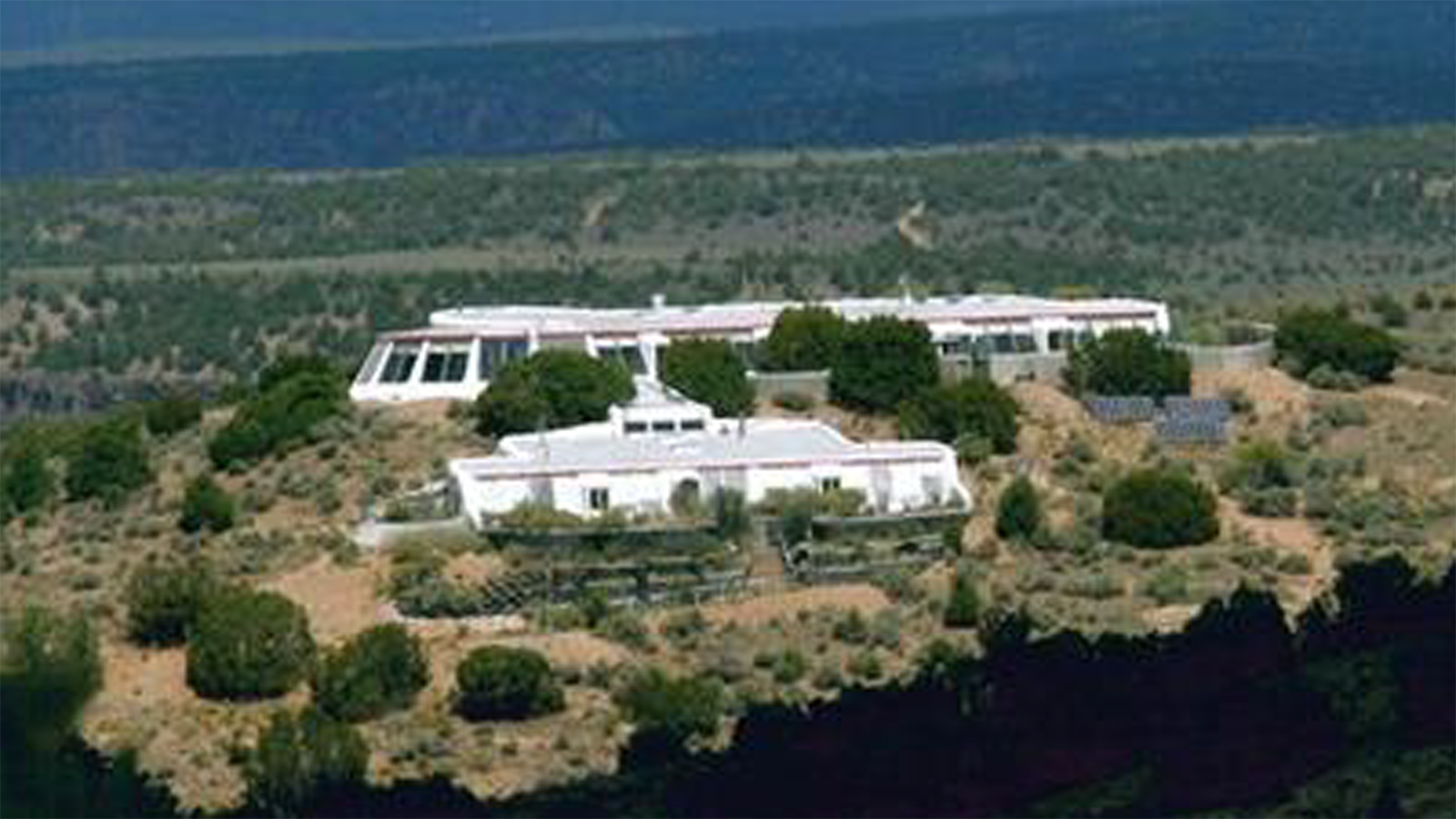 4-WHEEL DRIVE recommended and many STAIRS. An Enormous Earthship home set on 25 acres on a ridge top overlooking the Rio Grande Gorge near the Manby Hot Springs. This is the pinnacle of off grid living. This 7500 square foot 4 bedroom home is lovingly constructed with beautiful flagstone floors and a circular living room with a sweeping panorama view across the north, west and south. Very large cook's kitchen with a commercial stove and stainless sinks. Formerly run as an intimate bed and breakfast. The main part of the house has a master bedroom and bath at the far end, the room that now serves as an office would be the second bedroom. There is grand staircase down to 2 large bedrooms on the lower level with a separate entrance and parking area. There is a large wood stove upstairs. Fantastic solar gain throughout the home. 27 solar panels generate all the electricity needed, and a battery bank will store enough power to get through a few cloudy days.
Parade Route Map: https://goo.gl/eMXNbo
Map from center of Taos: https://goo.gl/76BsA1
Century 21 Success
Office 575-758-0080
Mary Emery – 575-770-8382
Listing 101026 – $549,000
---
Home #2 – 408 Tune Dr, El Prado, NM 87529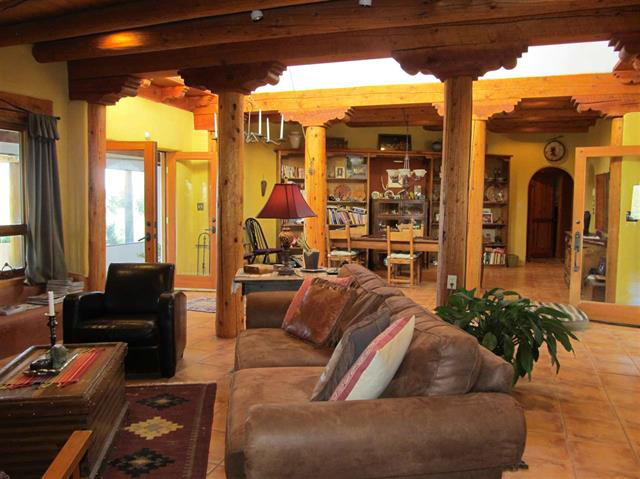 Close to Nature, Far From Ordinary: CASA COLIBRI A modern hacienda in the time-honored Taos tradition, Casa Colibri sits atop a gentle rise just north of Taos on the way to the Stagecoach hot springs and the newly designated Rio Grande National Monument. In the distance the Rio Grande Gorge cuts its way across open mesa land, home to desert bighorn, jackrabbits, hawks and eagles. By day, the vast blue canopy above stretches to infinity, and at night the stars are so close you can almost touch them. The interior is a perfect balance of spacious comfort and intimate appeal, with massive, oiled wood pillars, a sun drenched clerestory, Spanish tile and tasteful amenities throughout. Three bedrooms, Two baths, two fireplaces, three separate patio areas, three car garage, sun room and more on 5.9 acres. This is the one that sets the standard for Southwestern hospitality, craftsmanship and quality of life.!
Parade Route Map: https://goo.gl/eMXNbo
Map from center of Taos: https://goo.gl/2GDa3K
Century 21 Success
Office 575-758-0080
Linda Knief – 575-770-4758
Listing 101887 – $739,000
---
Home #3 – 201 Tune Dr, El Prado, NM 87529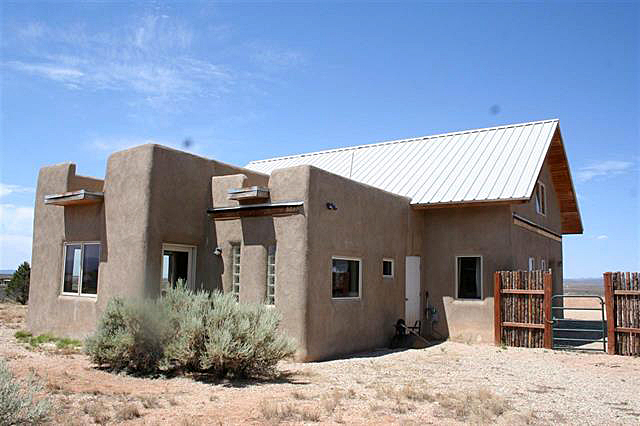 Enchanting Custom Home!! Expansive views, the best sunsets, near to trails and dark, starry night skies compliment this owner built home. 2bed/2bath plus bonus loft this 1752 sq' home on 2.5 acres features local craftsmanship: hand-built kitchen cabinets, water proof pigmented plaster walls in bathrooms, local stone kitchen window sills, t&g ceilings created from beetled kill from a nearby Colorado forest. Radiant hot water heat and solar gain keeps this house very warm in winter, with a wood stove for snow days. Thick 14" pumice walls help keep cool in summer. A portal is ready to be built over the main and master bedroom entrances. Horse and walking paths throughout the private Tune Drive. Bicycle to John Dunn Bridge, hot springs or Colorado and never hit pavement from this picturesque location. 20 minutes to Town of Taos or Taos Ski Valley.
Parade Route Map: https://goo.gl/eMXNbo
Map from center of Taos: https://goo.gl/MC3kZX
Berkshire Hathaway HomeServices Taos Real Estate
Office 575-758-1924
Kristine Wood – 575-758-1924
Listing 101950 – $385,000
---
Home #4 – 109 Upper Colonias Rd, El Prado, NM 87529
A FLAIR FOR THE DRAMATIC! Grand wide entrance halls, towering ceilings, spacious living areas with lots of lights, and a myriad of old Taos accents like kiva fireplaces (4), vigas, latillas, nichos, bancos, carved wood and courtyards make this 4,600 sq. ft. 4BR/3.5/BA /2CG home THE PLACE for entertaining friends and family or just enjoying the good life. The great room is spacious and is enhanced with 18' ceilings, a sculptured fireplace wall, and natural light. Dine in the open, yet formal dining room or enjoy the more casual dining breakfast nook or the kitchen island. Lots of room in the kitchen, with pantry, for cooking up feasts for friends or cozy enough for dinners for two. The master suite is sweet indeed with room for sitting areas or extra office. Extended family? Lots of friends? The guest wing has 2 or 3 bedrooms depending on use, a delightful family room or den, and a kitchen area. All the living areas wrap around a lovely courtyard with views of the mountains and plenty of room for entertaining. Kids or grandkids? Yes, there's even a playhouse and ½ court basketball court. The 2-car heated garage is oversized so there's room for a workshop. Located in Upper Colonias on 1.3 acres, you have easy year-round access to town (10 min.), TSV(25min.), Taos Airport (10 min.) and hiking, biking, fishing golf, ballooning, or rafting within 20-30 min. Of course, Arroyo Seco with galleries, ice cream and coffee shops, clothing stores, a bar, and organic grocery is nearby as well as restaurants, a wine shop, KTAO, and the Quail Ridge Inn for tennis and Summer swimming which are all even closer. P.S. Bring your collections – there's room for all.
Parade Route Map: https://goo.gl/eMXNbo
Map from center of Taos: https://goo.gl/EtCt21
Berkshire Hathaway HomeServices Taos Real Estate
Office 575-758-1924
Diane Enright – 575-770-0369
Listing 100646 – $750,000
---
Home #5 – WITHDRAWN from Event
---
Home #6 – 450 La Posta Rd, Taos, NM 87571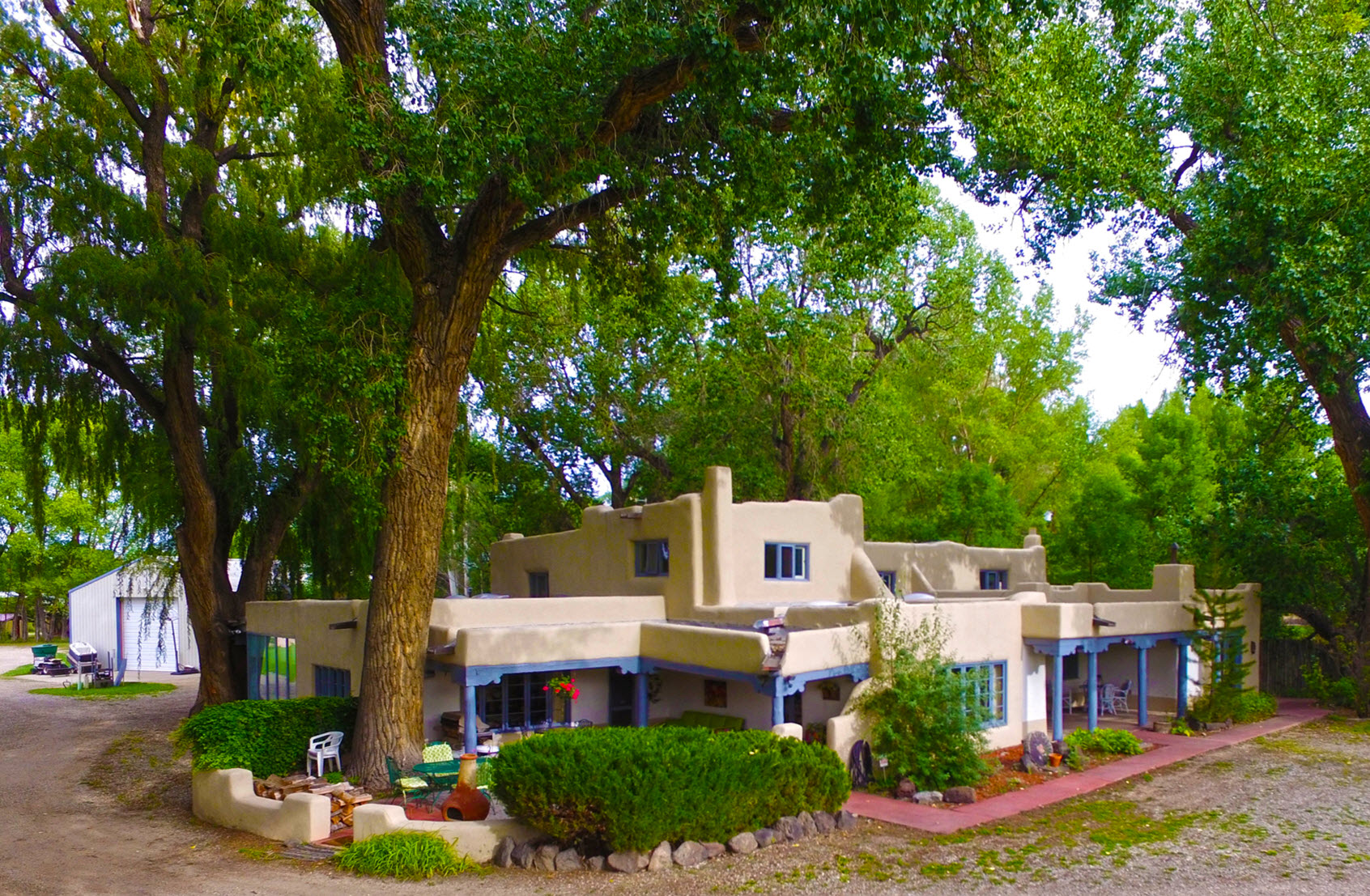 This is one of Taos' historic properties. The original adobe home was first built around 1895. It has been added onto over generations with great care to detail, structural and cultural integrity. Current owners have been on the property for over 40 years. It is rare to find such a large parcel, so meticulously maintained and with such strong water rights, this close to the Taos Plaza.
The property is a peaceful, secluded retreat with outstanding views of the Sangre de Cristo Mountains, majestic trees and lush green meadows. The land is ideal for an equestrian property or even as a residential compound, as is it's current use.
The main home is a 5600 sq. foot adobe, 2 stories, 5 bedroom, 4 bathroom and full of the charm and character you would expect from a northern New Mexico hacienda. Plaster treated walls, luxurious tiles and intricate woodwork give all the markings of a Taos classic. The home has been well maintained and cared for and is ready for immediate enjoyment. Each room is gracefully tied to outdoor spaces, with each of the bottom floor rooms having direct access to the outdoors and the upstairs rooms with wonderful windows, allowing for tremendous views and abundant natural light.
The 2,816 sq. ft. guest home is Pueblo style, flat roof and features a very open floor plan with tremendous natural light. The 3 bedrooms and 2 bathroom layout is very spacious with many glass doors connecting with the outside spaces.
There is a 3,000 sq. ft. heated garage/shop.
Parade Route Map: https://goo.gl/eMXNbo
Map from center of Taos: https://goo.gl/jSWDMi
Galles Properties
Office 505-328-2530
Travis Driscoll – 505-328-2530
Listing 201704951 – $3,889,000
---
Home #7 – 511 North Sunset St, Taos, NM 87571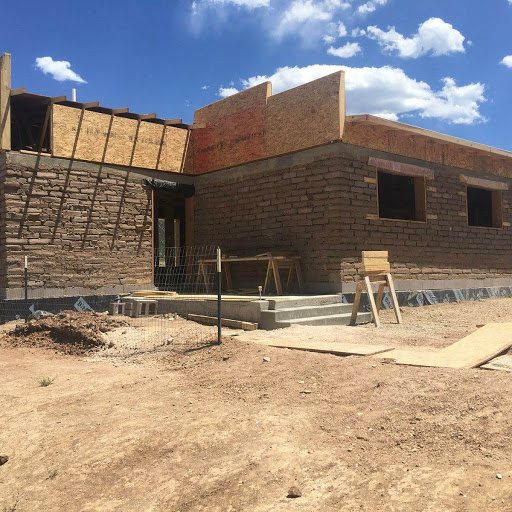 Come see Habitat for Humanity of Taos' 32nd home built in the Taos area. Check out what this event is all about and see how your participation in this event is helping Habitat for Humanity of Taos continue their humanitarian work of providing housing to individuals in need in our community. 100% of the proceeds from the Taos Parade of Homes goes to Habitat for Humanity of Taos.
Parade Route Map: https://goo.gl/eMXNbo
Map from center of Taos: https://goo.gl/xrSjSc
Habitat for Humanity of Taos
Office 575-758-7827
Cynthia Arvidson, Executive Director
HFHT Home #31
---
Home #8 – 1433 Berninghaus St, Taos, NM 87571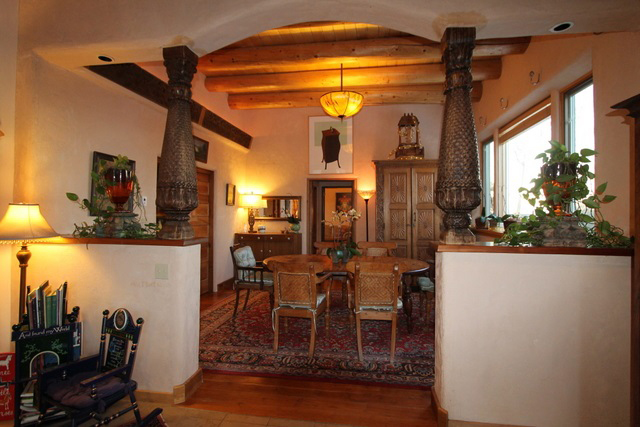 Never before on the market! Nestled in the Weimer area of Taos, is a beautifully constructed three bedroom, three bathroom estate-like home. Archcitectual antiques collected from world travels are featured throughout. The living area is illuminated with tall windows for light during the day, and it's warmed at night with a central kiva fireplace. Many pairs of Antique doors lead you throughout this stunning home, accompanied with hand plastered, lustrous walls, limestone floors, and vigas adorning the ceilings. Fifteenth-century columns and pillars compliment the high ceilings and archways found throughout the home. A formal dining room with magnificent views has hosted many elegant dinner parties. Two-hundred-year old reclaimed teak floors, stainless steel appliances, and an eight-burner stove will make every meal a pleasure to prepare. The large family room is fantastic for movie nights, or extra guests. There are two bedrooms and two baths on the main floor and there is a hand built black walnut and mahogany staircase that leads to the master suite. The suite has a spacious entry that can be office, art or yoga space, outside is a covered balcony facing Taos Mountain. Double sinks and a walk-in closet add to the convenience of the master bath, a soaking tub under a large picture window is the ultimate place for relaxation. With over 3000 square feet and 2×10 construction,this is a wonderful place to call home. The expertly constructed stone walls and terraced landscaping provide privacy and tranquility in this sanctuary. Ample outdoor space affords large summertime gatherings and tranquil fall evenings The calm and serene warmth of Casa Raja awaits you only ten minutes from the historic Taos Plaza and the surrounding art and entertainment district. By appointment only, this is a very beautiful and special property for those with a discerning eye.
Parade Route Map: https://goo.gl/eMXNbo
Map from center of Taos: https://goo.gl/5GKTVx
The Lora Company Real Estate
Office 575-758-3275
Maria Figliolia – 575-779-0285
Listing 101285 – $898,000
---
Home #9 – 795 Espinoza Road
The High Ground! This rather exquisite two story/4 bedroom/3.5 bath pueblo style home nestles nicely into the vast pinon/sagebrush covered and elevated foothill landscape, located at the gentle base of the Sangre de Cristo mountains and within a short walking distance of the Carson National Forest. The 5.5 acre elevated homesite provides nourishing sunset and otherwise expansive views of the surrounding Rio Grande Valley, the local Rocky Mountains, and the nearby culturally historic town of Taos, as well as providing an arm chair view of the local 4th of July fireworks and Balloon Fiesta launches. Several protected outside seating and lounging areas provide the opportunity to relax and enjoy the local environment. The four car heated, insulated, and dry-walled, detached garage provides space for vehicles and room for personal projects or additional storage space with protection from the elements. The two bay, very high ceiling, RV garage structure with an additional adjacent 600 square feet of shop/studio space is a bonus space that can serve many purposes. Enter the home through the custom carved wood entry door, inside this comfortable and light Southwestern style home, and find that it is well equipped with spacious thermopane windows oriented to take advantage of the views, especially of the Taos Mountain, and others for gathering the warmth of the Southwestern New Mexico sun on cool winter days. Within the home, one finds custom woodwork and custom cabinetry, custom tile work, and custom touches and finishes throughout the home that makes one feel like one has arrived in a uniquely Northern New Mexico Southwestern style, well thought out home. The kitchen is absolutely delightful and comfortable with custom kitchen cabinetry and tile work, an in-kitchen informal custom kitchen dining area as well as an adjacent more formal dining area that can be used for multiple purposes while focusing on the Taos Mountain views or for simply lounging and staring at a cracking fire in the airtight woodstove. Perhaps you would rather lay a fire in the kiva fireplace and read a book on a winter day. The master bedroom, located upstairs, has a private, second story, viewing deck located on the West side of the master bedroom. The Western and Northern views from this location are the absolute best. Within the master bedroom, with windows oriented towards the Taos Mountain, one finds more custom cabinetry and storage, a spacious master bedroom and separate master, bath with tub, and spacious walk in closet. Come spoil yourself. Besides the 4 existing bedrooms, there is an additional office/den space. This is one of my favorite rooms in the house. One of the 3.5 sparkling bathrooms comes equipped with a urinal! Outside, there are several different exterior lounging spaces including the covered portal viewing area and also the upstairs deck, several relaxation nooks on the North, East, South and West sides of the home. There is a well designed natural bird feeding area to observe and enjoy nature. The rolling pinon/sagebrush natural landscape does not block the views, yet provides a majestic landscape. There is electricity and water provided to 3 outside RV parking spaces in the pinons. There is a space to gather around an outdoor fireplace. The elk come and drink from the watering trough on the North side of the home This special place feels expansive in so many ways. Come and see if you would like to make this special property 'your place in Taos'. Square footage of house(3035) is per Taos County Assessor records. 4 bay heated garage(1150 sq ft);2 bay RV garage(800 sq ft) with attached workshop(400+ sq ft).
Parade Route Map: https://goo.gl/eMXNbo
Map from center of Taos: https://goo.gl/rkZzBS
Dreamcatcher Real Estate
Office 575-758-3606
Robert Jacobs – 575-770-1726
Listing 98720 – $885,000
---