Taos New Mexico Information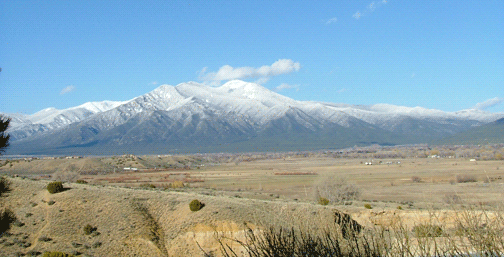 Towns in Taos County
Incorporated with 2003 populations:
Taos (5,008),
Questa (1,927),
Red River (489),
Taos Ski Valley (56)
Unincorporated:
Amalia,
Costilla,
Ojo Caliente,
Pilar,
Peñasco,
Ranchos de Taos,
Talpa,
Tres Piedras,
Valdez
Elevation
Town: 6,967 feet.
Taos Ski Valley: 9,207 feet. Wheeler Peak: 13,161 feet. Angel Fire: 8,382 feet.
Acreage
1,444,480 acres (22,257 square miles) in county; 50% feder­ally controlled; 6.7% state-owned; 4.3% Native American land; 38.2% privately owned.
Environment
Semi-arid continental climate.
Annual precipitation in town of Taos, 12 inches.
Sunshine 70 percent of possible hours annually.
Daytime during warmest month averages in 80s.
Low winter temperatures average near 10 degrees.
Average annual snowfall:
Taos Ski Valley: 321 inches
Town of Taos: 35 inches
Angel Fire: 140 inches
Agriculture
Number of full-time farms: 1,122 Irrigated land in production: 35,900 acres Median size of farm: 15 acres Market value of agricultural products sold: $9,000,000 Crop sales: 50% Livestock Sales: 50%.
Source: Taos County Extension Agency
TEMPERATURES (F) AND PRECIPITATION
Month
High
Low
Inches
January
40
10
0.83
February
45
15
0.72
March
53
22
0.79
April
64
29
0.92
May
73
37
1.21
June
83
44
0.75
July
87
50
1.58
August
88
55
1.77
September
79
42
1.11
October
67
32
1.13
November
52
18
0.71
December
43
12
0.57
Average:
64
30
1.0
Source: National Climate Data Center
Town of Taos
Property owners in the town of Taos can walk to The Historic Taos Plaza, Art Galleries, Museums and Shopping. Architecture varies quite a bit in Town: From large Adobe Haciendas, to Conventional Homes, to Small Pueblo Style Condominiums, to Cracker Box Fixer-Uppers. Building Lots are often 1/3 of an acre to an acre, but some larger lots are available.
Taos Ski Valley
Condominiums, Mountain Homes and Building Lots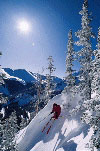 Ask any real skier what Taos Ski Valley is like, and without a doubt they will quickly inform you that it's one of the best Mountains in the world. Taos Ski Valley has the #1 rated Ski School in the Country and it's light powder (base elevation: 9400 ft) and great weather (304 annual days of sun) are legendary. The scenery is out of this world and the base village is small and charming with a strong European feel. Unlike Town, the architecture is much more conventional: Swiss Chalets, Mountain Cabins, Large Homes, Condominium Complexes, and Small Ski Hotels. Everything is very tastefully done. All private property in the Ski Valley is within walking distance to the lifts. The summer months are gorgeous, renting your property in the winter can produce some nice income, and real estate is surprisingly affordable.
North of Town
Homes and Land
Between Town and The Ski Valley (Blueberry Hill, Des Montes, Valdez, El Salto, Arroyo Hondo, San Cristobal, etc.) are some of the most breathtaking areas in the county. Varying dramatically in their topography; from Sagebrush Mesa's, to Lush Pastures, to Pine and Juniper Foothills. Small, old, beautiful villages sprinkle these areas and the architecture is diverse: Predominately Pueblo Style, but Territorial, Solar, and Conventional also share space. A very Taos-like phenomenon is to see all types of homes and price ranges side-by-side. Property owners generally have more room to roam than those in Town and they are still relatively close to The Plaza (10 to 20 minutes). One acre of land would be considered small, three to five would be more the norm, and six to ten is common.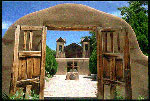 South of Town
Talpa, Ranchos and The Taos Country Club
Immediately south of Town are two of the oldest communities in New Mexico: Ranchos and Talpa. Both are very varied in Architecture and feel; Pastoral Valleys, Sagebrush Mesas, Old Neighborhoods and New, Adobes, Mobile Homes, Conventional Homes, and Farm Houses. Southern Taos is very eclectic. In the rolling Sage to the Southwest of Ranchos de Taos is the new Taos Country Club and Golf Course. An oasis of green, this is a championship 18 hole golf course with a big future. Architecture is Pueblo Style only, and it's all gorgeous. University of New Mexico has begun construction on a Taos Campus (Undergraduate Studies – 3,000+ students) which will over-look the course and should be in operation soon.
East of Town
Kit Carson Road heads east from Taos Plaza, this portion of The Enchanted Circle abandons the bustle of "city life" for the open meadows and pine-covered hillsides of Cañon. Following the rapid waters of the Rio Fernando, the road climbs through the richly forested slopes of Taos Canyon. The well-maintained highway takes a few twists and turns before reaching the summit, rewarding its travelers with high-mountain vistas of the Moreno Valley. The budding mountain community of Canon Heights offers suburb views along the canyon's sweeping ridges. A number of upscale homes now enjoy its commanding prospects, wooded terrain and convenience to town.
Away from Town
Less expensive, less developed: Tres Piedres, Carson, Questa, Costilla and Penasco are just a few of this county's towns that have stories and beauty of their own, but don't have the density of and price tags of Taos. Amenities are harder to come by, but price is less and that far-away feeling is greater.
Angel Fire: Angel Fire is located in the majestic Moreno Valley in Colfax County, NM, 23 miles east of Taos via US Highway 64, and 152 miles north­east of Albuquerque. The Moreno Valley is a 15-mile long, 3-mile wide, high alpine valley. FULL ANGEL FIRE AREA DETAILS.
Taos Chamber of Commerce: The Taos County Chamber of Commerce Website provides:

Taos – A Brief History
Situated where the western flank of the Sangre de Cristo range meets the semiarid high desert of the upper Rio Grande Valley, Taos combines nature and culture, history and progress. There's a much less artificial atmosphere here than at the state capital: Though the architecture might not be as aesthetically pleasing, it somehow seems more appropriate to the rough-and-ready setting.
Located just 40 miles south of the Colorado border, about 70 miles north of Santa Fe, and approximately 130 miles from Albuquerque, Taos is best known for its thriving art colony, its historic Native American pueblo, and its nearby ski area, one of the most highly regarded in the Rockies. It also has several fine museums and a wide choice of accommodations and restaurants for visitors.
About 5,000 people consider themselves Taosenos (permanent residents of Taos) today. They carry on a legacy of habitation that may have begun as long as 5,000 years ago; prehistoric ruins more than a millennium old exist throughout the Taos valley.
The Spanish first visited in 1540 and colonized the area in 1598, putting down three rebellions at the Taos Pueblo in the last two decades of the 17th century. Through the 18th and 19th centuries Taos was an important trade center: New Mexico's annual caravan to Chihuahua, Mexico, couldn't leave until after the annual midsummer Taos Fiesta. French trappers began attending the Fiesta in 1739. Plains tribes, even though they often attacked the Pueblos at other times, also attended the market festivals under a temporary annual truce. By the early 1800s Taos had become a headquarters for American "mountain men," the most famous of whom, Kit Carson, made his home in Taos from 1826 to 1868.
Taos, firmly Hispanic, stayed loyal to Mexico during the Mexican War of 1846. The city rebelled against its new U.S. landlord in 1847, killing newly appointed Gov. Charles Bent in his Taos home. Nevertheless it became a part of the Territory of New Mexico in 1850. It fell into Confederate hands for just six weeks during the Civil War, at the end of which time Carson and two other statesmen raised the Union flag over Taos Plaza and guarded it day and night. Since then Taos has had the honor of flying the flag 24 hours a day.
When the railroad bypassed Taos for Santa Fe, the population dwindled. But in 1898 two eastern artists – Ernest Bumenshein and Bert Phillips – discovered the dramatic light changes in the Taos valley and put them on canvas. By 1912 the Taos Society of Artists had placed the town on the international cultural map. Today, by some estimates, more than 10% of the population are painters, sculptors, writers, musicians, or people who otherwise earn income from an artistic pursuit.
The town of Taos is merely the focal point of rugged 2,200-square-mile Taos County. Two features dominate this sparsely populated region: the high desert mesa, split in two by the 650-foot-deep chasm of the Rio Grande; and the Sangre de Cristo range, which tops out at 13,161-foot Wheeler Peak, New Mexico's highest mountain…
– From Frommer's Comprehensive Travel Guide – Sante Fe, Taos & Albuquerque '93-'94