Angel Fire New Mexico Information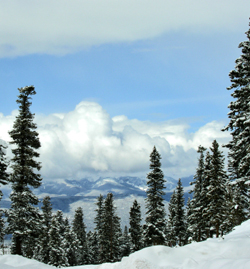 Angel Fire is located in the majestic Moreno Valley in Colfax County, NM, 23 miles east of Taos via US Highway 64, and 152 miles north­east of Albuquerque. The Moreno Valley is a 15-mile long, 3-mile wide, high alpine valley.
ELEVATION
8,382 feet at base of valley. Surrounding moun­tains range from 11,086-foot Agua Fria Peak on the south end of the valley to 12,441-foot Baldy Peak at the north end of the valley. Wheeler Peak, the highest mountain in the state, at 13,161 feet, forms the northwest boundary of the valley. Lati­tude N36 degrees 25.24 minutes; Longitude W105 degrees 17.40 minutes.
The incorporated Village of Angel Fire covers an area of 18,450 acres. 80 miles of improved and accepted roads; 8 miles paved and chip-sealed; 30 miles unpaved. Average lot size is .726 to .786 acre. Population: 1,048 year-round, ac­cording to the 2002 census, plus more than 600 seasonal residents.
CLIMATE
Winter temperatures are generally moderate, av­eraging mid-30s daytime to mid-teens in the early morning. Average annual snowfall is 140 inches in the valley and more than 210 inches at the ski area. Average annual precipitation in spring and summer is 7 inches with moderate temperatures, varying from early morning lows in the mid-40s to mid-afternoon highs of 75 degrees with very low humidity levels.
TOURISM
Tourism is the principal year-round industry in Angel Fire. Summer activities: PGA-rated golf course, tennis, horseback riding, fishing, scenic chairlift rides, mountain biking, hiking 4-wheeling, climbing wall and eurobungy. Special events are listed on the Angel Fire Chamber's Web site: www.AngelFireChamber.org. 575-377-6661. Winter activities are dominated by skiing and snowboarding at Angel Fire Resort Ski area, the third largest in New Mexico. 73 trails on over 550 acres of private land and a vertical drop of 2,077 feet. 26 percent of the trails are for beginners, 50 percent of intermediate, and 24 percent for experts. Snowmobiling is also a popular sport, with guided tours available on private land as well as in the Carson National Forest bordering the village.
TEMPERATURES (F) AND PRECIPITATION
Month
High
Low
Inches
January
44
-10
20.2
February
40
5
22.2
March
50
15
30.8
April
55
18
16.1
May
60
30
7.0
June
70
35
.75
July
78
45
4.75
August
78
45
1.25
September
72
30
.25
October
65
25
8.7
November
50
20
15.3
December
45
15
20.0
Angel Fire Chamber of Commerce:
PO Box 547
Angel Fire, NM 87710
Toll Free: 800-446-8117
Local: 575-377-6661
askus@AngelFireChamber.org